Sight words are one tool for helping students learn how to be fluent readers. The challenge for English Language Learners (and all students) is that the majority of these words do not have visuals that are easily associated with them. This can make it more challenge to give meaning to these words. In summary teaching sight words in the context of a phrase or sentence allows students to better remember them. Here are some specific strategies for teaching sight words to English Language Learners.
Disclosure: This post contains Amazon affiliate links, which means I may receive a commission if you click on an Amazon link and make a purchase. This does not cost you any extra money,
Use High Quality Nonfiction Easy Readers
Nonfiction is a great tool for teaching sight words to English Language Learners. This is particularly true for older ELLs. There are many high quality easy readers that use photographs or simple pictures. This allows ELLs to learn new vocabulary words at the same time they are learning sight words. The context of the books give meaning to the sight words.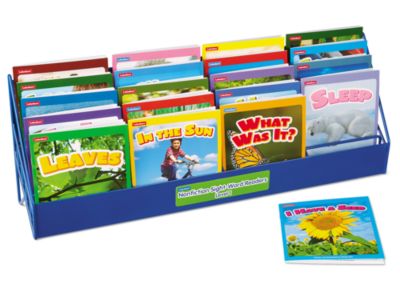 Use Simple Sentences and Phrases with Pictures
Most sight words do not have easy to understand meaning attached to them. Putting them into a sentence or phrase helps to give the words meaning and allows you to add in a picture. This is helpful for early readers and English Language Learners.
Students are able to read short sentences and phrases multiple times. They are quickly able to begin working on reading fluency and not focus on decoding the words of a sentence or phrase.
Sight word phrases are great for quick practice. They can be put on a ring and added to a students book box. They can also be added to a fluency center or incorporated into a guided reading routine.

Use Sentence Frames
Sentence frames allow students to practice reading and writing sentences with support. You can create sentences with sight words students are learning and then have them add in new vocabulary words or pictures to practice reading. For writing students practice writing using the frame and adding in their own information.
Cut up sentences
Cut apart sentences with sight words that students are learning. Have them put the sentences back in order. This allows them to practice reading each word and think about the overall meaning of the sentence. It is another way to practice sight words in context.
The-power-of-the-cut-up-sentence